Inducted on November 12, 2009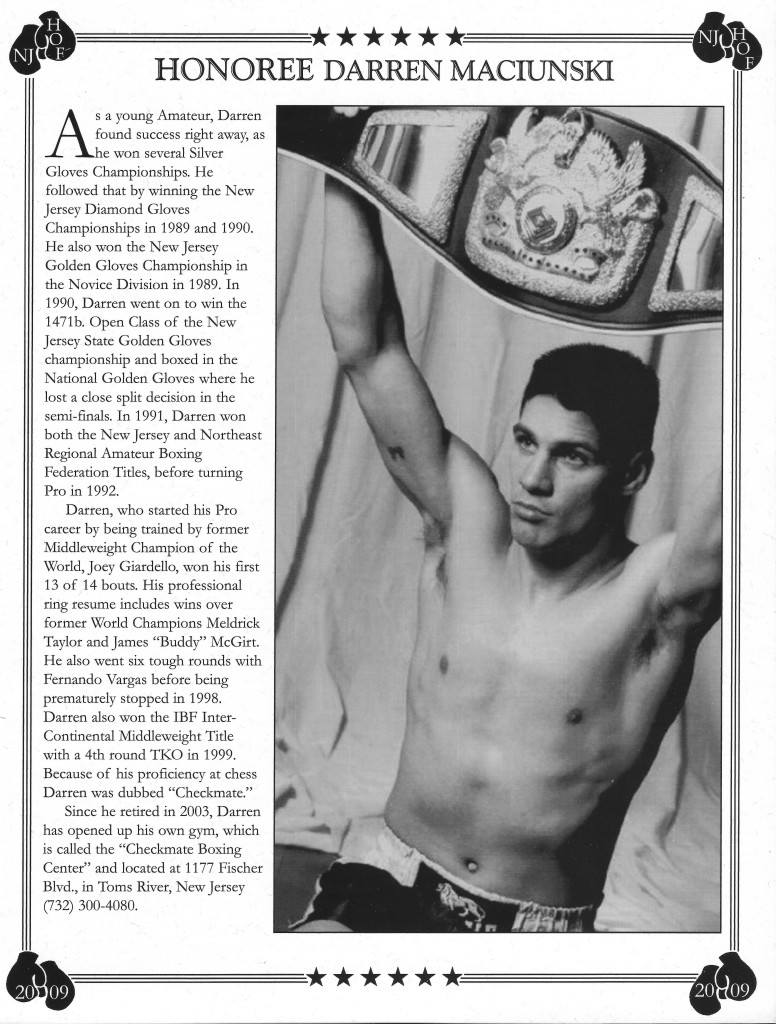 As a young Amateur, Darren found success right away, as he won several Silver Gloves Championships. He followed that by winning the New Jersey Diamond Gloves Championships in 1989 and 1990. He also won the New Jersey Golden Gloves Championship in the Novice Division in 1989. In 1990, Darren went on to win the 147 lb. Open Class of the New Jersey State Golden Gloves championship and boxed in the National Golden Gloves where he lost a close split decision in the semi-finals. In 1991, Darren won both the New Jersey and Northeast Regional Amateur Boxing Federation Titles, before turning Pro in 1992.
Darren, who started his Pro career by being trained by former Middleweight champion of the World, Joey Giardello, won his first 13 of 14 bouts. His professional ring resume includes wins over former World Champions Meldrick Taylor and James "Buddy" McGirt. He also went six tough rounds with Fernando Vargas before being prematurely stopped in 1998. Darren also won the IBF Inter-Continental Middleweight Title with a 4th round TKO in 1999. Because of his proficiency at chess, Darren was dubbed "Checkmate."
Since he retired in 2003, Darren has opened up his own gym, which is called the "Checkmate Boxing Center" and located at 2161 Whitesville Road, Toms River, NJ 08755 (732) 300-4080.