Inducted on October 29, 1982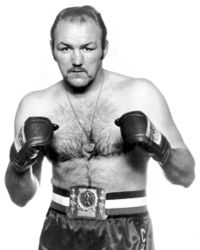 Another of the proud assets of the New Jersey Boxing Hall of Fame, is HONOREE CHUCK WEPNER, former contender for the World's Heavyweight Boxing Championship. His induction, long overdue, continues to propel prestige to the cfinest of all Halls of Fame throughout our great nation.
Chuck's record is an enviable one, both as an amateur: 81 bouts, 0 loses; (he was New York Golden Gloves and AAU boxing champion). And during 10 years in professionalism, 41 victories.
Though his goal of world's titlist fell fractions below accomplishment, one can attribute Chuck's prowess to the 'hard earned' efforts of four heavyweight champions; his opponents: Sonny Liston, George Forman, Ernie Terrell and also Muhammad Ali . . .
In 1970 Wepner defeated Ernie Terrell for the North American championship. This excellence lasted five years. As heavyweight champion of New Jersey his qualifications mastered this division for 16 years. It was these remarkable and commendable records which influenced promoter Don King to solicit a Chuck Wepner versus Muhammad Ali bout.
Many boxing critics deplored King's attempt. Wepner, they said, wouldn't stand a chance. "It'll be murder." "Ali will cut him to bits." "The Bayonne bleeder winning? No way." Such controversial decisions were cast. Many an ego deflated… many, but not ALL.
At the Greater Paterson Sportsman Dinner, a very eloquent speaker, WBA Commissioner Abe J. Greene stepped to the podium and said: "Yes, our Chuck Wepner isn't given a chance against Ali tomorrow night. But permit me to tell you about Chuck. I have been watching him through the ranks. At the start of that 15th round he may be bleeding but Bayonne's best will still be there."
How perfect an evaluation of a real champion. Then on March 24 before a TV audience of many millions, the description of Commissioner Greene, "Our Chuck Wepner will still be there," became a reality.
Wepner's long left, deeply set in the plans of his opponent, kept Ali baffled. Time and again Ali appeared amateurish while Wepner stalked him. It was a night Ali would always remember. Chuck stood toe to toe throwing combinations to the head and body. Ali displayed a bewildered expression during intervals of the bout. Suddenly Chuck delivered a hard right to the body. Ali hit the canvas. The hungry crowd roared for the finish. . . Wepner was very close to another title.
Yes, Commissioner, our Chuck was there! How enthused we are having him enshrined alongside you and our many ring greats. A champion among champions. . . Larkin; Galento; Cochrane; Lamorte; Lesnevich; Walker; Cavaliere; Williams; Braddock and Walcott.
It is with much enthusiasm and great respect to name Chuck Wepner. . . Honoree, New Jersey Boxing Hall of Fame.
MARIO J. CENTI,
President.
Trainer: Al Braverman
Chuck Wepner Gallery
Chuck Wepner, son of Charlie Wepner, was a Heavyweight contender of the 1970s, who was known for his toughness, as well as his susceptibility to cuts, which earned him the nickname of the "Bayonne Bleeder." Wepner won the 1964 New York Golden Gloves Heavyweight Novice Championship, when he defeated James Sullivan (unattached). Wepner compiled an amateur record of 16-0.
His biggest pro career victories came over Ernie Terrell and Randy Neumann. He trained at the Bayonne Police Athletic League in Bayonne, New Jersey, and worked as liquor salesman during his boxing career.
Wepner's heroic, albeit lopsided, defeat against Muhammad Ali, in which he knocked Ali down while stepping on his foot in a 1975 World title match, served as an inspiration for the Academy Award winning movie Rocky.
Boxing Record: click