Inducted on October 26, 1980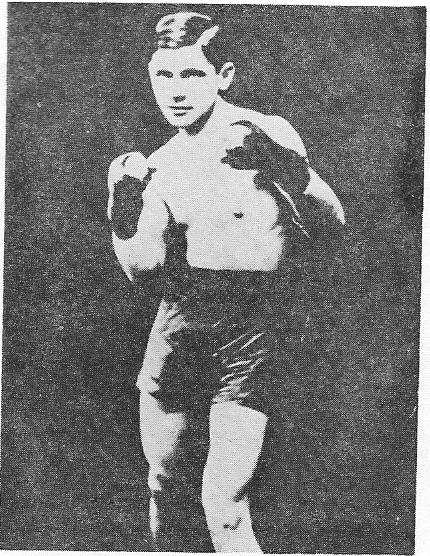 Charlie was a resident of Montclair, and he credits the Montclair YMCA where he would work out, for his youthful appearance and good physical condition.
Charlie was born in the small community of Conshohocken, Pennsylvania, on March 4, 1912. When he was a young lad, his family relocated to the Garden State; first to Newark, and then to Nutley, (where they lived for quite some time), and then back to Newark.
It was in Newark's East Side, the Ironbound District, at the height of the depression, when Charlie launched upon his boxing career. He was inspired in that direction by the late Andy Jack Wallace, a Posthumous Hall of Famer-1978. "Jack" Wallace was an outstanding boxer and spar-mate for some of the greats in boxing, viz., Joe Louis, Max Schmeling, and others. He was' a great sportsman, a dedicated and solid Union man (International Union of Operating Engineers, Local 825), and a man that Charlie revered and from whom he adopted his ring name. These two rugged former Federal Shipyard workers were like brothers; inseparable, and came up together as professional fighters during the turbulent depression years.
Charlie received his early training under George Guenthers. In retrospect, old timer's will recall Guenthers as one of the most adept and proficient trainers of the times. He had Charlie working out in the gyms with Willie Cubic and molded him into a skilled ring mechanic. When the Great Depressionhit the face of this country like a Paulie Cortlyn right-cross, Charlie wasted no time in turning professional. . . it was the year of 1929.
As a welterweight he engaged in 51 professional fights, winning 38, losing 11 and drawing 2, with another tough East Sider from Newarks' Ironbound, viz.,Tommy Padavano. He was stopped twice, once by Bucky Jones, and once by Charlie Gordon.
When Charlie was honored by Ring 25, together with his long-time friend, the late Tony Galento, et al., at DeMaio's, several years ago, the late Babe Orlando, former boxing sports' writer, wrote in his publication; " . . . you can say one thing about' this tough 'Pole' he certainly did not pick any soft touches." He toed the mark with such fine ring artists as: Paulie Cortlyn; Bucky Jones; Johnny Vogel; Tony Fisher; Mickey O'Day; Charlie Gordon; Irish Jimmy Brady; Frankie Carlton; Belleville's Frankie Corsi; and Teddy Loder. He boxed five New Jersey Boxing Hall of Famers, viz., Bucky Jones; Paul Cortlyn; Frankie Corsi; Frankie Carlton and Teddy Loder.
Charlie is the sixth long-time resident of Camptown, Irvington, to be inducted into the New Jersey Boxing ea Hall of Fame; and, the others are: Roy Lazar; Charlie Fusari; Paulie Cortlyn; Jack McFarland and Benny Levine, resjpectively. All of these Hall of Famers, excepting Paul Cortlyn, are former Irvingtonians. Another former Camptowner had a lot to do with shaping Charlie's boxing career; and, that was his manager, viz., Jimmy Marsillo, of the famed Marsillo's family; a name well-renowned in boxing circles. Jimmy is a brother' of Pete" Tony and the late Vic Marsillo, who managed Hall of Famer Charlie Fusari. Jlmmy's brother Pete, was the President of IVBA Ring No. 25, of Essex, Morris and Union Counties. Charlie has much respect and admiration for the man who managed him during his boxing career; and, he and go, his manager Jimmy have been lifetime friends. Jimmy Marsillo was the 2nd Vice President of IVBA Ring No. 25.
Charlie is a man dedicated to the sport that he loves, and can be seen out at fight functions everywhere; lending a helping hand whenever called upon. With his long-time friend, Jack Aretinnes, he has traveled all over the world, to such places as Hawaii; Turkey; Greece; Spairl; Italy; Mexico; France; Africa; et al., as a Good Will Ambassador for the Internation- Veteran Boxer's Association.
Some other toughies whom he toed the mark with 'in the squared circle' are: Sammy Small; Mickey Russell; Joie Woods; Johnny Dempsey; Kid Krohn; Mel Doty; Tommy Judge; Johnny Battles; Kid Norfolk; and Hal Frankie Valentine, George Raft's fighter.
Charlie was a long time member of the IVBA, of which he and Jack Aretinnes were 'Good Will Ambassadors; and, he is also a Charter Member of IVBA Ring No. 25, in which he was a Sergeant At Arms; and, he had been on the publicity staff of the New Jersey Boxing Hall of Fame, in which he is also a Sergeant At Arms. He was honored by his own Ring 25, at DeMaio's in Whippany, in 1971, and again by the IVBA, at the Bel Fior, in the Cats kills, in 1978.
Charlie boxed in Pennsylvania, Connecticut, and in his own Garden State, in such places as the old Oakland, in Jersey City; Lakewood; East Newark; Newark; Elizabeth; Long Branch; Plainfield; Sea Girt; Berkshire Valley; Stanhope; et. al., and was a real crowd pleaser. Charlie has made friends all over the country and the world.
Anyone who has ever come into contact with him, will agree that when you have Charlie for a friend, you have a good reliable friend. A hard and conscientious worker since early youth. he shows as much dedication to his employers as he does' to the sport he loves.
A long time employee of Plastinetics in Fairfield, New Jersey, he was employed there parttime as a machine operator. He has two lovely daughters, two fine sons-in-laws, and five beautiful grandchildren. His daughter, Evelyn Kozlik, resides in Irvington, and her husband William (Bill), is employed by the town as an Assistant Superintendent in the Bureau of Alarms, for the Police and Fire Departments. They have three children, William Jr. (Billy); Karen; and Kristen. His other daughter, Cynthia Wisniewski, resides in California. "Cindy" and her husband Frank formerly resided in Irvington for many years. Frank, an Air Force Veteran, is presently employed by the government as a plane instrument mechanic. They have two children, Laura-Lynn, and Brian.
Charlie use to work out at the YMCA, he liked to spend time at his daughter's home in Irvlngton, where he often Excercises with his little jogging partner, his lovely granddaughter', Kristen, the 'apple of his eye.'
Charlie is a son of the late Felix and Helen Pupek Nerwinski and the Brother of Mrs. Marie Lakeland; Mrs. Sofia Trella; Felix 'Duke' Wallace; Walter Wallace; and the late Steve Wallace Nerwinski. All of Charlie's family, relatives and friends are pleased to see "Jaju" 'grandpop' entered into the New Jersey Boxing Hall of Fame and are very proud of him. He was a rugged contender and much deserving of the honor.