Inducted November 13, 1987
Charlie Spina, the Hoboken, New Jersey, lightweight was born in the "Mile Square City" of Hoboken. Charlie, a terrific puncher, belongs in the special group who could knock you out with either hand.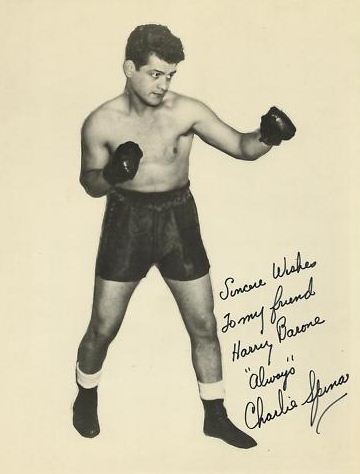 Charlie started boxing as an amateur in 1936 under the watchful eyes of "Young Champ" Seiger. After a dozen or so bouts Charlie joined the C.C.C.s and was soon doing his fighting in sunny California where he boxed around the bay area in San Francisco, winning ten of eleven bouts.
In 1937 Spina turned pro under the management of Freddie Caruso and Fred Dellostritto where he scored a 4 round decision over Tommy Ferrara, at the old Belmont Bowl in Garfield, N.J. He was just finding the range, 'when World War II came along and he enlisted in the U.S. Coast Guard.
While stationed at Manhattan Beach, he served under commander Jack Dempsey, and among his former boxing shipmates were, Lou Ambers, Marty Servo, Nathan Mann, Gus Lesnevich, Al Reid and Tony Marteliano. After beating some of the leading lightweights in the world, Chalie Spina had to quit the ring. A bad case of pleurisy which later developed into pneumonia being the cause.
After the war Charlie once again resumed his leather pushing.
His return was sensational, as he racked up 9 straight knockouts in as many bouts. The "Hoboken Hurricane", as his loyal fans dub bed him was responsible for 11 sellouts in a row for amatchmaker Billy Brown at the old Jersey City Gardens. The local fans were now breaking down the arena doors to see this sensational KO. Artist bowl 'em over, and Charlie seldom let them down. However, the old ailment of pleurisy started acting up again, forcing Charlie to call it quits for the last time. His two fisted style and dynamite punching caught the eyes of the local fans, and his amazing professional record, upon his retirement stands at 36-0 with 23 KO.'s and 13 wins.
Today Charlie Spina makes his home in Lakewood, N.J. with his lovely wife Lee. Charlie also has a son Charlie, Jr.
Charlie who is known as the "Walking Encyclopedia of Boxing" has been the Past President of the New Jersey Boxing Hall of Fame and the first elected President. He was also President of the World Boxing Historians Association and Ring #14.
In the past he has been honored by many Boxing and Civic Fraternities for his devotion and outstanding dedication to Boxing. Among them was the recipient of the Freddie Fiducia Award at the IVBA Convention.
The New Jersey Boxing Hall of Fame is very proud to induct such a outstanding individual. A former Boxer Historian, President and currently a world renowned Boxing Judge where he has judged all over the world countless numbers of championship bouts. He is truly a credit to his family, community and the entire boxing world. A MAN WITH DEVOTION, GENEROSITY AND FELLOWSHIP.
Boxing Record: Charlie Spina
Officiating Record: Charlie Spina