Inducted on November 8, 2007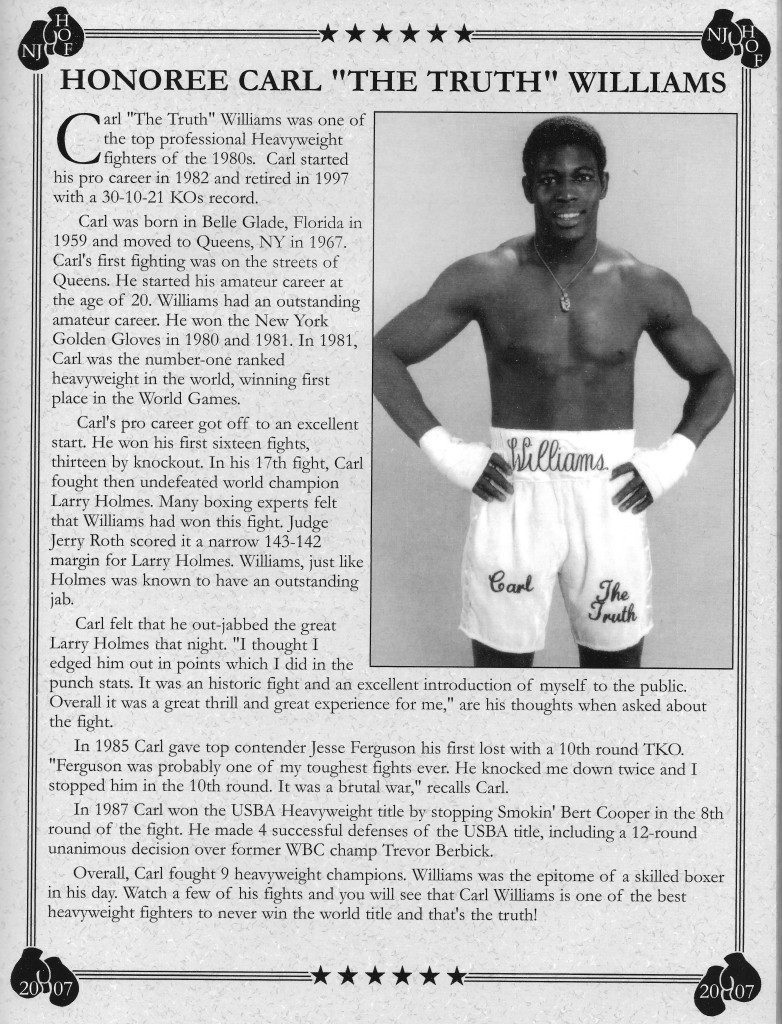 Alias: The Truth
Born: 1959-11-11
Birthplace: Belle Glade, Florida, USA
Died: 2013-04-07 (Age:53)
Hometown: White Plains, New York, USA
Stance: Orthodox
Height: 6′ 4″   /   193cm
Boxing Record: click
New York Golden Gloves Champion
Carl Williams won two New York Golden Gloves Championships. Williams won both the 1980 New York Golden Gloves Sub-Novice Heavyweight Championship and the 1981 Heavyweight Open Championship. Williams stopped(RSC-2} John Kibelka of the New York City Recreation in the finals of the 1980 Sub-Novice Heavyweight Championship and in 1981 Williams stopped(RSC-2} Ronald Turner of the 25th Precinct in the finals to win the Championship. Williams trained at the New York City Recreations O'Connell Center.
Won the 1981 heavyweight Intercity Golden Gloves over Craig Bodzianowski at heavyweight.
Worked as a security guard in downtown Manhattan at Ground Zero after retirement from the ring, and later worked security for Verizon in Queens, New York. He was twice divorced and had three children.
Death
Williams died of esophageal cancer in New York City on April 7, 2013. He was survived by his daughter Carla and son Daniel. Another daughter, 12 year old Nilah, died of leukemia and predeceased him.