Inducted on November 12, 2009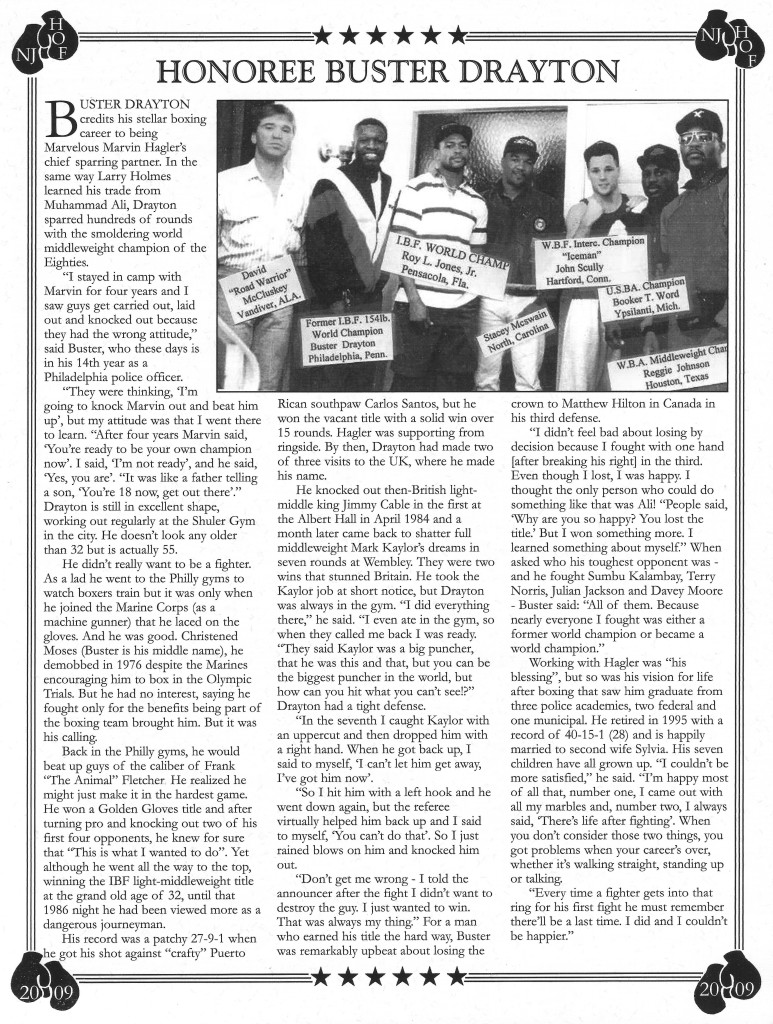 BUSTER DRAYTON credits his stellar boxing career to being Marvelous Marvin Hagler's chief sparring partner. In the same way Larry Holmes learned his trade from Muhammad Ali, Drayton sparred hundreds of rounds with the smoldering world middleweight champion of the Eighties.
"I stayed in camp with Marvin for four years and I saw guys get carried out, laid out and knocked out because they had the wrong attitude," said Buster, who these days is in his 14th year as a Philadelphia police officer.
"They were thinking, 'I'm going to knock Marvin out and beat him up', but my attitude was that I went there to learn. "After four years Marvin said, 'You're ready to be your own champion now'. I said, 'I'm not ready', and he said, 'Yes, you are'. "It was like a father telling a son, 'You're 18 now, get out there'." Drayton is still in excellent shape, working out regularly at the Shuler Gym in the city. He doesn't look any older than 32 but is actually 52. He boxes an exhibition next month at the Blue Horizon.
The Shuler Gym have asked him to take up training fighters there. He didn't really want to be a fighter. As a lad he went to the Philly gyms to watch boxers train but it was only when he joined the Marine Corps (as a machine gunner) that he laced on the gloves. And he was good. Christened Moses (Buster is his middle name), he demobbed in 1976 despite the Marines encouraging him to box in the Olympic Trials. But he had no interest, saying he fought only for the benefits being part of the boxing team brought him. But it was his calling.
Back in the Philly gyms, he would beat up guys of the caliber of Frank "The Animal" Fletcher. He realized he might just make it in the hardest game. He won a Golden Gloves title and after turning pro and knocking out two of his first four opponents, he knew for sure that "This is what I wanted to do". Yet although he went all the way to the top, winning the IBF light-middleweight title at the grand old age of 32, until that 1986 night he had been viewed more as a dangerous journeyman.
His record was a patchy 27-9-1 when he got his shot against "crafty" Puerto Rican southpaw Carlos Santos, but he won the vacant title with a solid win over 15 rounds. Hagler was supporting from ringside. By then, Drayton had made two of three visits to the UK, where he made his name.
He knocked out then-British light-middle king Jimmy Cable in the first at the Albert Hall in April 1984 and a month later came back to shatter full middleweight Mark Kaylor's dreams in seven rounds at Wembley. They were two wins that stunned Britain. He took the Kaylor job at short notice, but Drayton was always in the gym. "I did everything there," he said. "I even ate in the gym, so when they called me back I was ready. "They said Kaylor was a big puncher, that he was this and that, but you can be the biggest puncher in the world, but how can you hit what you can't see!?" Drayton had a tight defense.
"In the seventh I caught Kaylor with an uppercut and then dropped him with a right hand. When he got back up, I said to myself, 'I can't let him get away, I've got him now'.
"So I hit him with a left hook and he went down again, but the referee virtually helped him back up and I said to myself, 'You can't do that'. So I just rained blows on him and knocked him out.
"Don't get me wrong – I told the announcer after the fight I didn't want to destroy the guy. I just wanted to win. That was always my thing." For a man who earned his title the hard way, Buster was remarkably upbeat about losing the crown to Matthew Hilton in Canada in his third defense.
"I didn't feel bad about losing by decision because I fought with one hand [after breaking his right] in the third. Even though I lost, I was happy. I thought the only person who could do something like that was Ali! "People said, 'Why are you so happy? You lost the title.' But I won something more. I learned something about myself." When asked who his toughest opponent was – and he fought Sambu Kalambay, Terry Norris, Julian Jackson and Davey Moore – Buster said: "All of them. Because nearly everyone I fought was either a former world champion or became a world champion."
Working with Hagler was "his blessing", but so was his vision for life after boxing that saw him graduate from three police academies, two federal and one municipal. He retired in 1995 with a record of 40-15-1 (28) and is happily married to second wife Sylvia. His seven children have all grown up. "I couldn't be more satisfied," he said. "I'm happy most of all that, number one, I came out with all my marbles and, number two, I always said, 'There's life after fighting'. When you don't consider those two things, you got problems when your career's over, whether it's walking straight, standing up or talking.
"Every time a fighter gets into that ring for his first fight he must remember there'll be a last time. I did and I couldn't be happier."
Buster Drayton Returns to the Ring in 2012
Former World Junior Middleweight champion Buster Drayton returned to the ring in an exhibition. Drayton, age 57, returned on January 28, 2012, in a exhibition in Philadelphia against Philadelphia police officer Floyd 'Sugar Boy' Richards on the undercard of Dhafir Smith versus Quinton Rankin. Drayton and Richards both work at Veteran's Hospital in Center City. Buster Drayton won the IBF title by 15 round decision at the Meadowlands over Carlos Santos in 1986. He lost it to 26-0 Matthew Hilton at The Forum in Montreal, Canada in 1987. The South Philadelphia's fighter's final professional record was 40-15-1, with 28 kayos. In terms of longevity in the ring, Drayton was 9 years younger in 2012 than The Galveston Giant, legendary former World Heavyweight champion Jack Johnson, who last appeared in an charity exhibition for U.S. War Bonds at age 66 in 1945. Also, former Junior Welterweight champion Saoul Mamby fought a professional bout at age 60 in 2008, but lost his comeback attempt by ten round decision.
Boxing Record: click