Inducted on November 13, 2003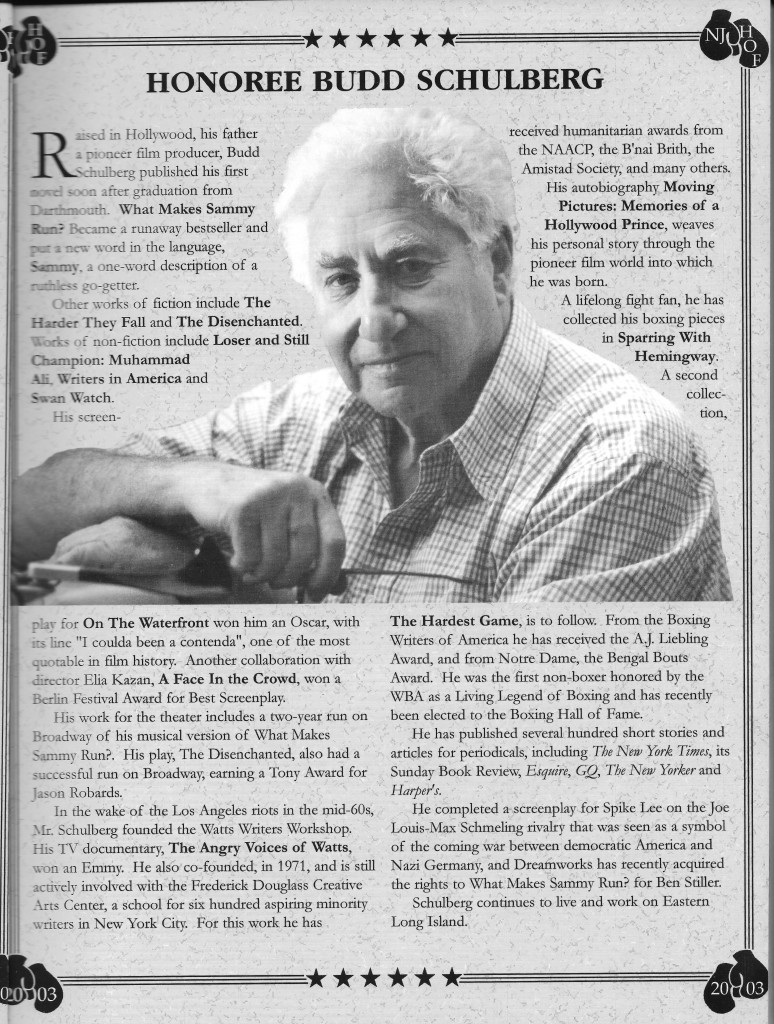 Raised in Hollywood, his father a pioneer film producer, Budd Schulberg published his first novel soon after graduation from Darthmouth. What Makes Sammy Run? Became a runaway bestseller and put a new word in the language, Sammy, a one-word description of a ruthless go-getter.
Other works of fiction include The Harder They Fall and The Disenchanted. Works of non-fiction include Loser and Still Champion: Muhammad Ali, Writers in America and Swan Watch.
His screenplay for On The Waterfront won him an Oscar, with its line "I coulda been a contenda", one of the most quotable in film history. Another collaboration with director Elia Kazan, A Face In the Crowd, won a Berlin Festival Award for Best Screenplay.
His work for the theater includes a two-year run on Broadway of his musical version of What Makes Sammy Run?. His play, The Disenchanted, also had a successful run on Broadway, earning a Tony Award for Jason Robards.
In the wake of the Los Angeles riots in the mid-60s, Mr. Schulberg founded the Watts Writers Workshop. His TV documentary, The Angry Voices of Watts, won an Emmy. He also co-founded, in 1971, and is still actively involved with the Frederick Douglass Creative Arts Center, a school for six hundred aspiring minority writers in New York City. For his he has received humanitarian awards from the NAACP, the B'nai Brith, the Amistad Society, and many others.
His autobiography Moving Pictures: Memories of a Hollywood Prince, weaves his personal story through the pioneer film world into which he was born.
A lifelong fight fan, he has collected his boxing pieces in Sparring With Hemingway. A second collection, The Hardest Game, is to follow. From the Boxing Writers of America he has received the A.J. Liebling Award, and from Notre Dame, the Bengal Bouts Award. He was the first non-boxer honored by the WBA as a Living Legend of Boxing and has recently been elected to the Boxing Hall of Fame.
He has published several hundred short stories and articles for periodicals, including The New York Times, its Sunday Book Review, Esquire, GQ, The New Yorker and Harper's.
He completed a screenplay for Spike Lee on the Joe Louis-Max Schmeling rivalry that was seen as a symbol of the coming war between democratic America and Nazi Germany, and Dreamworks has recently acquired the rights to What Makes Sammy Run? for Ben Stiller.
Schulberg continues to live and work on Eastern Long Island.