Inducted on November 18, 2004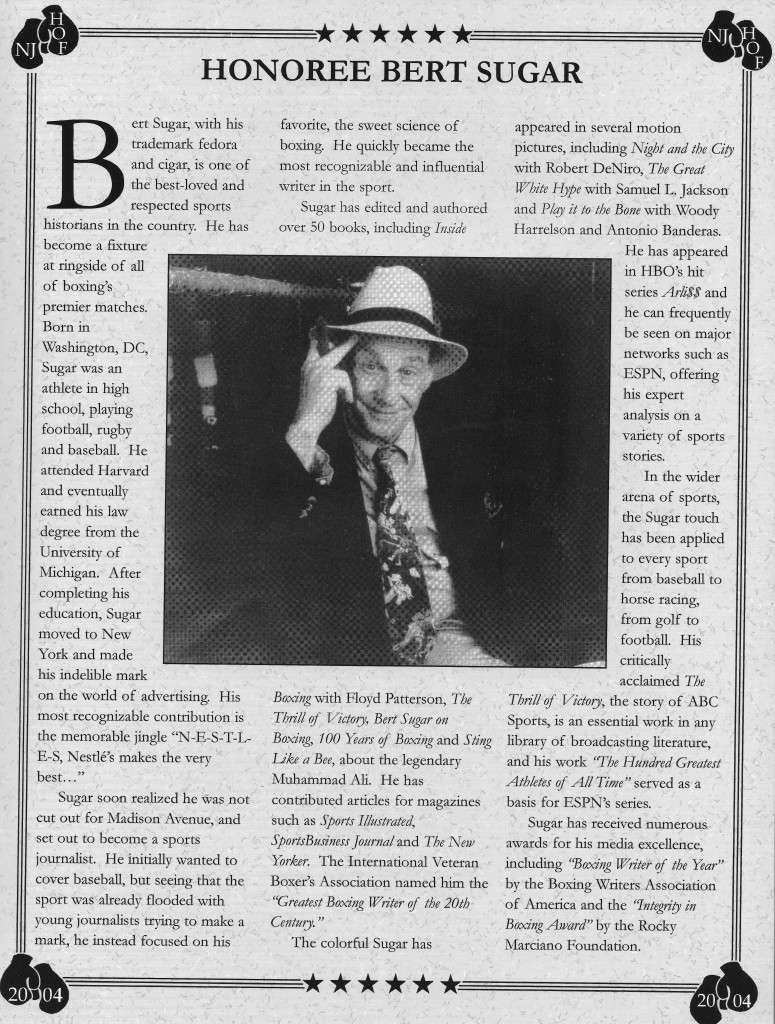 Bert Randolph Sugar (June 7, 1937 – March 25, 2012) was a boxing writer and sports historian.[1]
Biography
Education
Born in Washington, D.C., Sugar graduated from the University of Maryland. He earned a JD and MBA from the University of Michigan in 1961. After passing the bar exam, he worked in the advertising business in New York City for ten years.[2] During his time in the advertising business, he worked at several different agencies, including J Walter Thompson, PKL and McCann Erickson.
Career
Sugar bought Boxing Illustrated magazine in 1969 and was editor until 1973.[3] From 1979–1983 he was editor and publisher of The Ring. In 1988 he once again began editing Boxing Illustrated. In 1998 he founded Bert Sugar's Fight Game.
Sugar authored over 80 books, mostly on boxing history. Various boxing books that Sugar has written include Great Fights, Bert Sugar on Boxing, 100 Years of Boxing, Sting like a Bee (with José Torres), The Ageless Warrior (Preface, with Mike Fitzgerald) and Boxing's Greatest Fighters. Sugar was called "The Greatest Boxing Writer of the 20th Century" by the International Veterans Boxing Association.[4]
In May 2009 he and Running Press published Bert Sugar's Baseball Hall of Fame: A Living History of America's Greatest Game.[5]
Sugar also co-wrote a book about Harry Houdini titled Houdini, His Life and Art with James Randi.
Other media
Sugar also appeared in several films playing himself, including Night and the City, The Great White Hype and Rocky Balboa. Interviews with Sugar feature in Unforgivable Blackness: The Rise and Fall of Jack Johnson. Sugar had been referred to as "Runyonesque" (in reference to Damon Runyon) by Bob Costas, and "one of the foremost historians alive," by the Boston Globe. Along with Lou Albano, he helped write The Complete Idiot's Guide to Pro Wrestling.[6] He wrote a regular sports column for Smoke Magazine, a quarterly cigar lifestyle magazine.
Honors
Sugar was inducted into the International Boxing Hall of Fame in January 2005.[7] In May 2010, he received the Ellis Island Medal of Honor. In 2011, he was featured on The Pentagon Channel's Armed Forces Boxing Championships. Sugar had been scheduled to broadcast the 2012 matches, but his health prevented him from doing so.
Death
Sugar died from cardiac arrest on March 25, 2012. His family was at his bedside at Northern Westchester Hospital in Mount Kisco, New York. Prior to his death, avid cigar smoker Sugar had spent years battling lung cancer.[1]
References
External links
From Wikipedia, the free encyclopedia
Bert Sugar

Bert Sugar (right) with former world middleweight champion

Emile Griffith

(left) in January 2010

Born

Herbert Randolph Sugar


June 7, 1937
Washington, D.C.
Died
March 25, 2012 (aged 74)
Mount Kisco, New York

Cause of death

Cardiac arrest
Residence
New York City, New York
Nationality
American
Education
JD, MBA
Alma mater
University of Maryland,
University of Michigan
JD, MBA
Occupation
Boxing writer,
sports historian
Years active
1968 – 2012
Home town
New York City, New York
Spouse(s)
Suzanne Sugar
Children
Jennifer Frawley,
J.B. Sugar
Awards – International Boxing Hall of Fame, Ellis Island Medal of Honor

Bert Sugar, Boxing Writer and Commentator, Is Dead at 75

Published: March 26, 2012

Bert Sugar, boxing's human encyclopedia, a prolific writer and editor and a flamboyant and ubiquitous presence in the world of the ring, died on Sunday in Mount Kisco, N.Y. He was 75.

Louis Lanzano/Associated Press

He had lung cancer and died of cardiac arrest at Northern Westchester Hospital, his daughter, Jennifer Frawley, said.

The author or editor of dozens of books; the editor, at various times, of The Ring magazine and Boxing Illustrated; and a television and radio commentator who rarely turned away from a microphone, Mr. Sugar was as voluminous a speaker as he was a writer.

Garrulous, opinionated, an eager conversationalist who was known to talk with just about anybody, he was an accomplished raconteur with a bottomless sack of anecdotes and an incorrigible penchant for wisecracks and bad jokes. You could pick him out in a crowded room by his voice — a distinctively upbeat growl — or by the omnipresent wide-brimmed fedora on his head and the fat cigar in his mouth.

Mr. Sugar, who was elected to the International Boxing Hall of Fame in 2005, was not simply a character, however. He wrote about the sport with swagger and panache, a prose style that carried the weight of expertise and that simply assumed the authority to bellow and bleat:

"In the world of the early 1900s, still awash with Victorian gentility and doily-type embroidery on everything from manners and modes to conversation and conventional heroes," he wrote to introduce an essay on the great black champion Jack Johnson, "the name of the heavyweight champion stood out in stark relief, a man of swaggering virility who epitomized the turbulent yet proud surety of the populace of a nation destined for greatness."

In the 1980s, he dared to choose and rank the 100 greatest boxers of all time, and 20 years later he revised the list (and the book explaining it). In "Boxing's Greatest Fighters" (2006), he ranked Sugar Ray Robinson No. 1, Joe Louis at 4 (after Henry Armstrong and Willie Pep) and Muhammad Ali at 7 (after Harry Greb and Benny Leonard). At 100, he listed Mike Tyson, whose chapter he began this way:

"To perplexing questions like 'Why does Hawaii have interstate highways?' and 'Why did kamikaze pilots wear helmets?' can be added another: What the hell happened to boxing's kamikaze pilot, Mike Tyson?"

Herbert Randolph Sugar was born in Washington on June 7, 1936, and, according to family lore, legally changed his name to Bert as a child because he was tired of classmates taunting him with, "Herbert, please pass the sherbet."

He attended public schools, graduated from the University of Maryland and earned business and law degrees at the University of Michigan, where he wrote for The Michigan Daily and played rugby. He passed the Washington bar in 1961 — "the only bar I ever passed," he was wont to remark — but instead of going into the law, he moved to New York City and worked for a time in advertising.

An obsessive sports fan and an inveterate memorabilia collector who had a 700-pound chunk of stone from the original Yankee Stadium planted in his rock garden, he leapt into sports journalism by the beginning of the 1970s, purchasing Boxing Illustrated — which he edited well but ran as a business badly — and a handful of lesser-known, short-lived sports publications. For a while in the mid-'70s, he edited the men's magazine Argosy.

In 1979, he and several others, including Dave DeBusschere, the former basketball star, and Bill Veeck, the former maverick baseball club owner, purchased The Ring; Mr. Sugar was its editor through troubled financial times until 1983. Mr. Sugar's book about Muhammad Ali, "Sting Like a Bee," written with the boxer Jose Torres, was published in 1971, and Mr. Sugar was the co-writer, with Angelo Dundee, Ali's longtime cornerman, of Dundee's autobiography, "My View From the Corner: A Life in Boxing." (Dundee died on Feb. 1.)

With the former heavyweight champion Floyd Patterson, he wrote "Inside Boxing" (1974), an examination of boxing technique. And he wrote on other subjects as well: a history of ABC Sports, a biography of the escape artist Harry Houdini, a primer on horse racing. Nearly as immersed in baseball arcana as in boxing arcana, he edited several volumes of statistics and trivia.

Mr. Sugar lived in Chappaqua, N.Y. In addition to his daughter, he is survived by his wife, the former Suzanne Davis, whom he married in 1960; a son, JB; a brother, Steven; and four grandchildren.