Inducted on November 12, 2009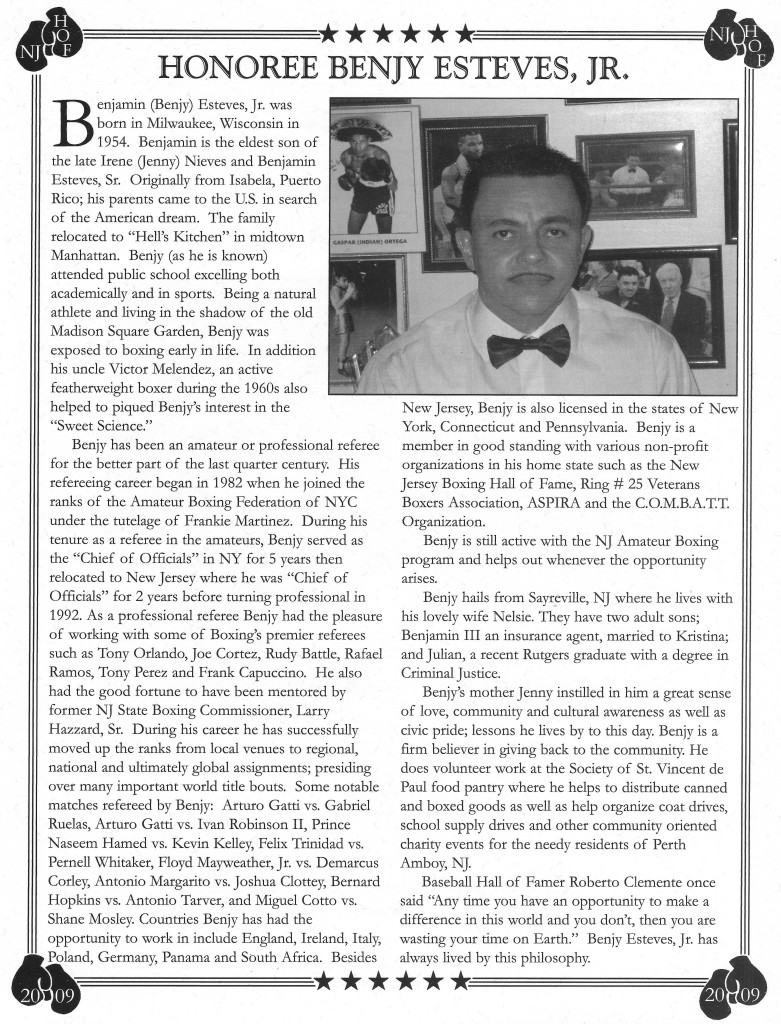 Benjamin (Benjy) Esteves, Jr. was born in Milwaukee, Wisconsin in 1954. Benjamin is the eldest son of the late Irene (Jenny) Nieves and Benjamin Esteves, Sr. Originally from Isabela, Puerto Rico, his parents came to the United States in search of the American dream. The family relocated to "Hell's Kitchen" in midtown Manhattan. Benjy (as he is known) attended public school excelling both academically and in sports. Being a natural athlete and living in the shadow of the old Madison Square Garden, Benjy was exposed to boxing early in life. In addition, his uncle Victor Melendez, an active featherweight boxer during the 1960s also helped to piqued Benjy's interest in the "Sweet Science."
Benjy has been an amateur or professional referee for the better part of the last quarter century. His refereeing career began 1982 when he joined the ranks of the amateur Boxing Federation of NYC under the tutelage of Frankie Martinez. During his tenure as a referee in the amateurs, Benjy served as the "Chief of Officials" in New York for 5 years, and then relocated to New Jersey where he was "Chief of Officials" for 2 years before turning professional in 1992. As a professional referee, Benjy had the pleasure of working with some of boxing's premier referees, such as, Tony Orlando, Joe Cortez, Rudy Battle, Rafael Ramos, Tony Perez and Frank Capuccino. He also had the good fortune to have been mentored by former New Jersey State Boxing Commissioner, Larry Hazzard, Sr. During his career he has successfully moved up the ranks from local venues to regional, national and ultimately global assignments, presiding over many important world title bouts. Some notable matches refereed by Benjy: Arturo Gatti vs. Gabriel Ruelas, Arturo Gatti vs. Ivan Robinson II, Prince Naseem Hamed vs. Kevin Kelley, Felix Trinidad vs. Pernell Whitaker, Floyd Mayweather, Jr. vs. Demarcus Corley, Antonio Margarito vs. Joshua Clottey, Bernard Hopkins vs. Antonio Tarver, and Miguel Cotto vs. Shane Mosley. Countries Benjy has had the opportunity to work in include England, Ireland, Italy, Poland, Germany, Panama and South Africa. Besides New Jersey, Benjy is also licensed in the states of New York, Connecticut and Pennsylvania. Benjy is a member in good standing with various non-profit organizations in his home state, such as the New Jersey Boxing Hall of Fame, Ring #25 Veterans Boxers Association, ASPIRA and the C.O.M.B.A.T.T. Organization.
Benjy is still active with the New Jersey Amateur Boxing program and helps out whenever the opportunity arises.
Benjy hails from Sayreville, New Jersey where he lives with his lovely wife, Nelsie. They have two adult sons: Benjamin III, an insurance agent, married to Kristina; and Julian, a recent Rutgers graduate with a degree in Criminal Justice.
Benjy's mother, Jenny, instilled in him a great sense of love, community and cultural awareness, as well as civic pride; lessons he lives by to this day. Benjy is a firm believer in giving back to the community. He does volunteer work at the Society of St. Vincent de Paul food pantry where he helps to distribute canned and boxed goods, as well as help organize coat drives, school supply drives and other community-oriented charity events for the needy residents of Perth Amboy, New Jersey.
Baseball Hall of Famer Roberto Clemente once said, "Any time you have an opportunity to make a difference in this world and you don't, then you are wasting your time on Earth." Benjy Esteves, Jr. has always lived by this philosophy.
Referee Record – Benjy Esteves Jr.