Inducted on November 10, 2005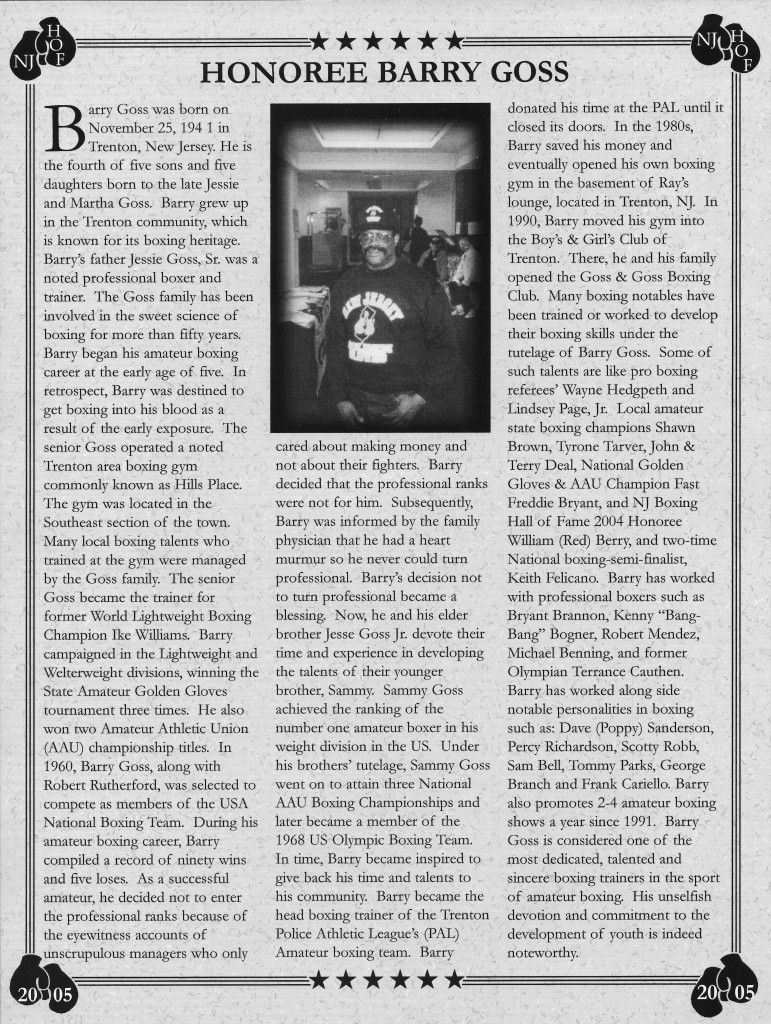 Inducted on November 10, 2005
It's been said that the Goss family has been in boxing, the most influential family for the last 30 years in the Trenton area. Barry Goss has been admired and respected for his work with the youth in this community.
Barry Goss – Age 63
Born and raised in Trenton NJ
Son of Jesse Goss
10 Children, (5 girls, 5 boy) All the boys were fighters
Married to Goss, Father to children
Barry Goss is a life long resident of Trenton NJ and is a former amateur champ/manager/promoter and current Head Trainer
of Goss & Goss Boxing Club.
He has been involved in boxing for 58 years. Barry started boxing at 5 years old with the help of his father Jesse.
Jesse Goss was a professional fighter and he trained world lightweight champ Ike Williams and Young Terry.
Mr. Goss had an amateur record of 90 wins and 5 losses. He captured three Golden Gloves titles; two AAU titles and was
a member of the 1960 USA National Team. A heart murmur prevented him from turning to the professional ranks.
This blessing led him and elder brother Jesse Jr. to devote their time and experience into developing the talents
of younger brother Sammy. (No.1 in the country/ three time National Champ/ member of the 1968 Olympic Team).
In time Barry inspired to give back his time to the community. The early years, training was out of the basement of Ray's
lounge, than Barry moved on to become head trainer at Trenton's PAL Center until it close its doors. In 1990 Barry moved
his gym into the Boy's & Girls club of Trenton, there he and family opened the Goss & Goss Boxing Club.
Many notables have trained or worked to develop under the tutelage of Barry Goss. Such as: Boxing referee Wayne Hethpage,
Boxing referee Lindsey Page, Amateur Tournament Champs Shawn Brown, Tyrone Traver, John & Terry Deal, National Golden
Gloves & AAU Champs Fast Freddie Byrant, William (Red) Berry, 2 Time National-semi-finalist Keith Felicano, Worked with
professionals Bryant Bannon 21-2, Kenny Bogner, Robert Mendez, Michael Benning, and former Olympian Terry Cauthen.
Barry's worked along side notable personalities in boxing such as: Dave (Poppy) Sanderson, Percy Richardson, Scotty Robb,
Sam Bell, Tommy Parks, George Branch and Frank Carillo. Barry has also promoted 2-4 amateur boxing shows a year since 1991.
It's with great honor that I submit the name Barry Goss for induction into the class of 2005 New Jersey Boxing Hall of Fame.