Inducted on November 13, 2003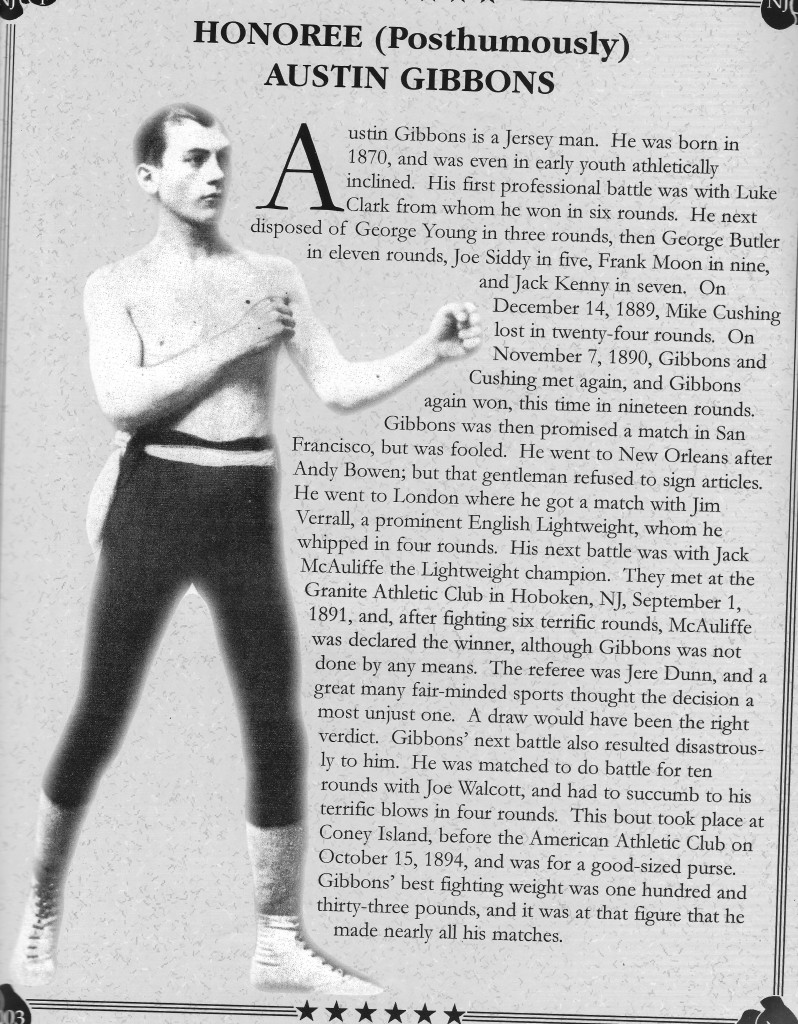 Austin Gibbons is a Jersey man. He was born in 1870, and was even in early youth athletically inclined. His first professional battle was with Luke Clark from whom he won in six rounds. He next disposed of George Young in three rounds, then George Butler in eleven rounds, Joe Siddy in five, Frank Moon in nine, and Jack Kenny in seven. On December 14, 1889, Mike Cushing lost in twenty-four rounds. On November 7, 1890, Gibbons and Cushing met again, and Gibbons again won, this time in nineteen rounds. Gibbons was then promised a match in San Francisco, but was fooled. He went to New Orleans after Andy Bowen; but that gentleman refused to sign articles. He went to London where he got a match with Jim Verrall, a prominent English Lightweight, whom he whipped in four rounds. His next battle was with Jack McAuliffe the Lightweight champion. They met at the Granite Athletic Club in Hoboken, NJ, September 1, 1891, and, after fighting six terrific rounds, McAuliffe was declared the winner, although Gibbons was not done by any means. The referee was Jere Dunn, and a great many fair-minded sports thought the decision a most unjust one. A draw would have been the right verdict. Gibbons' next battle also resulted disastrously to him. He was matched to do battle for ten rounds with Joe Walcott, and had to succumb to his terrific blows in four rounds. This bout took place at Coney Island, before the American Athletic Club on October 15, 1894, and was for a good-sized purse. Gibbons' best fighting weight was one hundred and thirty-three pounds, and it was at that figure that he made nearly all his matches.
Name: Austin Gibbons
Born: 1869-01-01
Birthplace: Liverpool, Merseyside, United Kingdom
Died: 1907-12-08 (Age:38)
Hometown: Paterson, New Jersey, USA


Austin Gibbons died of tuberculosis 12/9/1907 at St Joseph's Hospital in Paterson, New Jersey.
Boxing Record: click