Inducted on November 12, 2009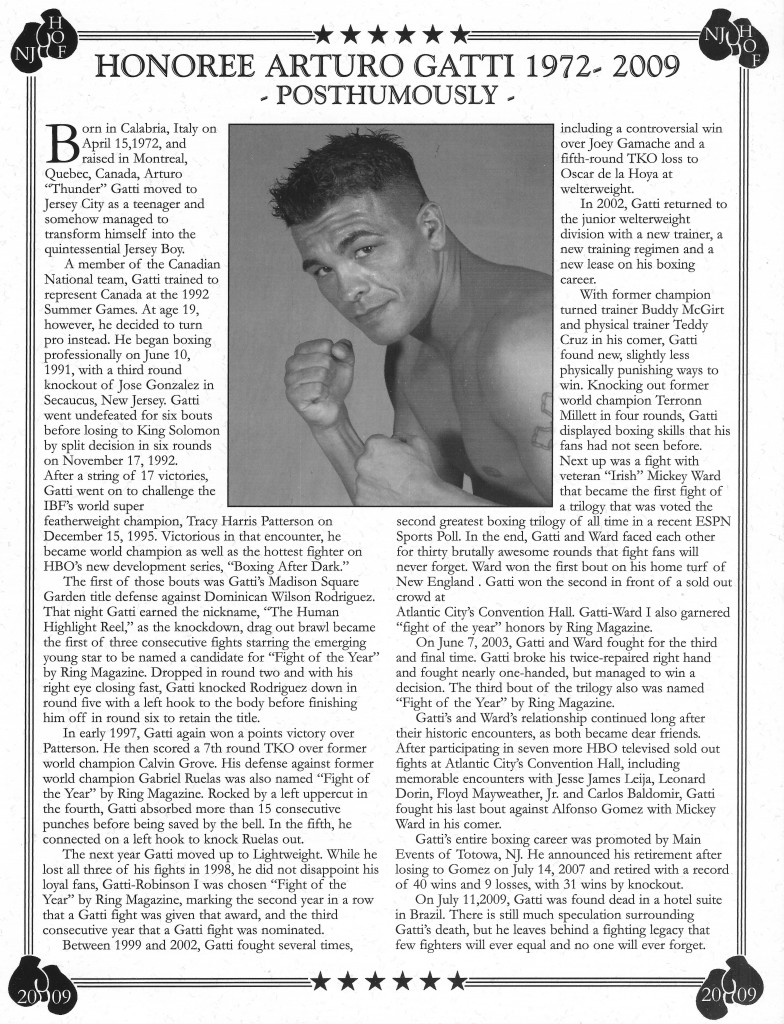 Born in Calabria, Italy on April 15, 1972, and raised in Montreal, Quebec, Canada, Arturo "Thunder" Gatti moved to Jersey City as a teenager and somehow managed to transform himself into the quintessential Jersey Boy.
A member of the Canadian national team, Gatti trained to represent Canada at the 1992 Summer Games. At age 19, however, he decided to turn pro instead. He began boxing professionally on June 10, 1991, with a third round knockout of Jose Gonzalez in Secaucus, New Jersey. Gatti went undefeated for six bouts before losing to King Solomon by split decision in six rounds on November 17, 1992. After a string of 17 victories, Gatti went on to challenge the IBF's world super featherweight champion, Tracy Harris Patterson on December 15, 1995. Victorious in that encounter, he became world champion as well as the hottest fighter on HBO's new development series, "Boxing After Dark."
The first of those bouts was Gatti's Madison Square Garden title defense against Dominican Wilson Rodriguez. That night Gatti earned the nickname, "The Human Highlight Reel," as the knockdown, drag out brawl became the first of three consecutive fights starring the emerging young star to be named a candidate for "Fight of the Year" by Ring Magazine. Dropped in round two and with his right eye closing fast, Gatti knocked Rodriguez down in round five with a left hook to the body before finishing him off in round six to retain the title.
In early 1997, Gatti again won a points victory over Patterson. He then scored a 7th round TKO over former world champion Calvin Grove. His defense against former world champion Gabriel Ruelas was also named "Fight of the Year" by Ring magazine. Rocked by a left uppercut in the fourth, Gatti absorbed more than 15 consecutive punches before being saved by the bell. In the fifth, he connected on a left hook to knock Ruelas out.
The next year Gatti moved up to Lightweight. While he lost all three of his fights in 1998, he did not disappoint his loyal fans. Gatti-Robinson I was chosen "Fight of the Year" by Ring Magazine, marking the second year in a row that a Gatti fight was given that award, and the third consecutive year that a Gatti fight was nominated.
Between 1999 and 2002, Gatti fought several times, including a controversial win over Joey Gamache and a fifth round TKO loss to Oscar de la Hoya at welterweight.
In 2002, Gatti returned to the junior welterweight division with a new trainer, a new training regimen and a new lease on his boxing career.
With former champion turned trainer Buddy McGirt and physical trainer Teddy Cruz in his corner, Gatti found new, slightly less physically punishing ways to win. Knocking out former world champion Terronn Millett in four rounds, Gatti displayed boxing skills that his fans had not seen before. Next up was a fight with veteran "Irish" Mickey Ward that became the first fight of a trilogy that was voted the second greatest boxing trilogy of all time in a recent ESPN Sports Poll. In the end, Gatti and Ward faced each other for thirty brutally awesome rounds that fight fans will never forget. Ward won the first bout on his home turf of New England. Gatti won the second in front of a sold out crowd at Atlantic City's Convention Hall. Gatti-Ward I also garnered "fight of the year" honors by Ring Magazine.
On June 7, 2003, Gatti and Ward fought for the third and final time. Gatti broke his twice-repaired right hand and fought nearly one-handed, but managed to win a decision. The third bout of the trilogy also was named "Fight of the Year" by Ring Magazine.
Gatti's and Ward's relationship continued long after their historic encounters, as both became dear friends. After participating in seven more HBO televised sold out fights at Atlantic City's Convention Hal, including memorable encounters with Jesse James Leija, Leonard Dorin, Floyd Mayweather, Jr. and Carlos Baldomir, Gatti fought his last bout against Alfonso Gomez with Mickey Ward in his corner.
Gatti's entire boxing career was promoted by Main Events of Totowa, New Jersey. He announced his retirement after losing to Gomez on July 14, 2007 and retired with a record of 40 winds and 9 losses, with 31 wins by knockout.
On July 11, 2009, Gatti was found dead in a hotel suite in Brazil. There is still much speculation surrounding Gatti's death, but he leaves behind a fighting legacy that few fighters will ever equal and no one will ever forget.
Name: Arturo Gatti
Alias: Thunder
Born: 1972-04-15
Birthplace: Calabria, Italy
Died: 2009-07-11 (Age:37)
Hometown: Jersey City, New Jersey, USA
Stance: Orthodox
Height: 5′ 7½″   /   171cm
Reach: 70″   /   178cm
Boxing Record: click

Manager: Pat Lynch
Trainers: Hector Roca, Ronnie Shields, James (Buddy) McGirt, Mickey Ward
Career Overview
Arturo Gatti was one of the most exciting boxers in history. He won world titles in two weight divisions and was involved in The Ring Fight of the Year four times.
Gatti was born in Italy on April 15, 1972. While still a young boy, the Gatii family emigrated to Montreal, Quebec, Canada. Living in the Little Italy section of Montreal, Gatti developed a passion for soccer and hockey but eventually followed in the footsteps of his older brother, Joe Gatti, and became a boxer.
After representing Canada at the 1991 World Junior Championships in Peru, Gatti turned professional at age 19. Three years later, he stopped Pete Taliaferro in one round to win the USBA Junior Lightweight Title. Gatti won his first world title in 1995, outpointing Tracy Harris Patterson to win the IBF Junior Lightweight Championship. In his first defense, Gatti had to get off the floor to stop Wilson Rodriguez in six exciting rounds. After outpointing Patterson in a rematch, Gatti stopped Gabriel Ruelas in four thrilling rounds. The Ring named it Fight of the Year for 1997.
After three successful title defenses, Gatti vacated the title and moved up to lightweight in 1998. He was stopped on a cut against Angel Manfredy and then lost two brutal fights to Ivan Robinson by decision. The first Robinson fight was named 1998 Fight of the Year by The Ring. Some people called for his retirement after losing three grueling fights in a row, but Gatti continued to fight. He moved up to junior welterweight and won four straight fights before being dominated and stopped by Oscar De La Hoya at welterweight.
Gatti engaged in a great trilogy with Micky Ward in 2002 and 2003. Ward won the first fight, and Gatti won the next two. The Ring named the first fight the 2002 Fight of the Year, and the third fight got the honor for 2003.
Gatti outpointed Gianluca Branco in 2004 to win the vacant WBC Super Lightweight Championship, becoming a two-time champion, something many felt he would never be able to accomplish. In his first title defense, Gatti knocked out undefeated former lightweight champion Leonard Dorin with a left hook to the body. He followed the Dorin fight with a knockout of former junior lightweight champion Jesse James Leija.
Gatti made his third defense against the highly-regarded Floyd Mayweather Jr. in 2005. Gatti was no match for Mayweather, who completely dominated the fight until Gatti's corner stopped it after the sixth round.
After stopping undefeated Thomas Damgaard to win the lightly regarded IBA Welterweight Championship in 2006, Gatti challenged Carlos Manuel Baldomir for the WBC Welterweight Championship and was stopped in nine rounds.
Gatti retired in 2007 after being knocked out by Alfonso Gomez.
Gatti was inducted into the International Boxing Hall of Fame in 2013.
Championship Record
Has a record of 7-2 (4 KO) in World Title fights.
Has a record of 9-3 (6 KO) against former or current world titlists.
Awards and Recognition
Comments
Dan Rafael of ESPN: "He was the greatest action fighter of our era and maybe one of the top two or three action fighters of all time."
Promoter Lou DiBella: "He captivated people. He had a warrior spirit in the ring."
Micky Ward: "He gave it all in the ring. He gave everything to the sport of boxing. He gave the fans what they wanted."
Death
Gatti was found dead with blood stains on his neck and the back of his head at about 6:00 a.m. on July 11, 2009. He was on his second honeymoon with his Brazilian wife, Amanda Rodgrigues, in Porto de Galinhas, Brazil. The following day, it was announced that Amanda Rodgrigues had been charged with murder and arrested by authorities. Early reports alleged that Gatti was struck multiple times in the back of the head and then apparently strangled with a purse strap while unconscious. On July 30, 2009, authorities in Brazil ruled Gatti's death a suicide and ordered the release of Rodrigues. During a 2011 civil trial in Gatti's native Montreal, the Quebec coroner ruled that there was no evidence of foul play in the ex-boxer's death, and a Quebec judge awarded Rodrigues the entire Gatti estate. She still faced a wrongful-death suit filed in New Jersey against her by Gatti's ex-wife, Erika Rivera, but that was dismissed in 2012 by a New Jersey judge.
External Links