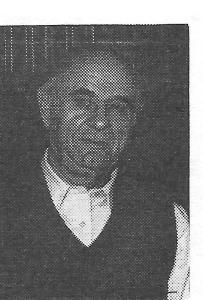 At age 73, most people think about slowing down or retiring. Not Art Cavaliere.
Whether it is driving down to Atlantic City, flying to Las Vegas or elsewhere to work with boxers or training fighters here at Lenny Shaw's Gym, Cavaliere is doing what he loves – working in boxing.
A picture of health at 6 foot 2 and a solid 220 pounds, Cavaliere was honored with a plaque in 1983 by the New Jersey Diamond G loves for 50 years of devoted service. ~I was very proud to get recognized with that award," said Cavaliere, who was born in Paterson and lived there before moving to Wayne 6 years ago.
WHEN NOT ON the road, Cavaliere opens the gym at 1 P.M., usually working to 7 P.M. and sometimes as late as 10 P.M. training both amateur hopefuls and established professionals.
"I always liked teaching the young ones best. We start working with them very early and they're eager to learn," Cavaliere said. ~When a young boy grows up with the discipline of boxing, it adds to his character as he develops into a man".
Art works part time for the veteran boxing manager, Lou Duva. Almost all of the professionals who are handled by Duva are linked promotionally with Main Events of West Paterson which is run by Lou's son Dan, a West Paterson resident.
"Art is my right hand man," Duva said. "If I need someone to work with an amateur, train a pro or work in a corner with me, Art's my man".
THE FIRST GYM Cavaliere started hanging around in was the City Hall Annex in Paterson.
"I was 16 then and put the gloves on to spar in the gym", he said. "Before I would sign up for an amateur tournament, my mother told me to forget about it. Both my brothers were fighting them and she didn't want me to pick up the sport".