Inducted on October 30, 1977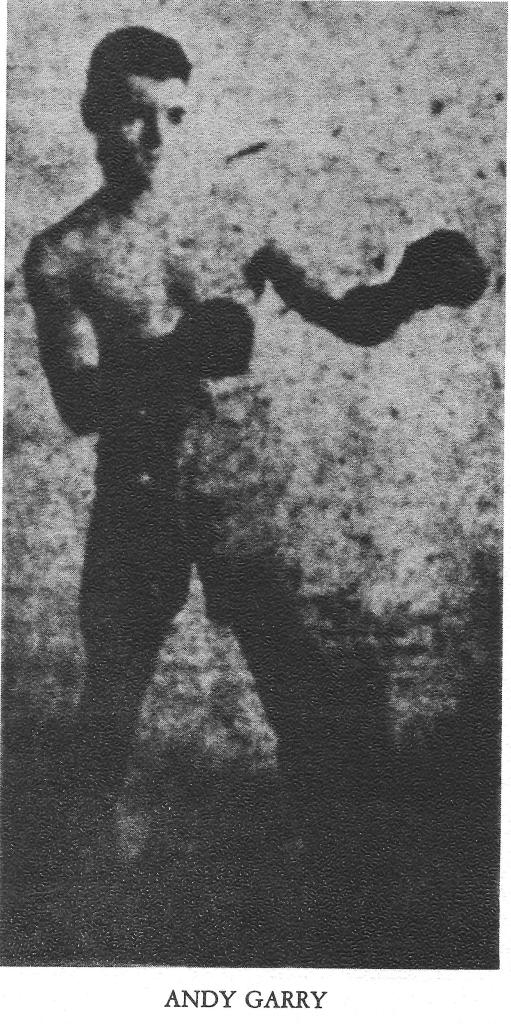 Andy Garry was born on June 15, 1902. He started his boxing career in 1919 with a 4 round win over Kid Burns. Over the next few years he fought with great success earning him the right to meet the top men in the middleweight division. In 1924 he started a win streak that was to last three years.
He stopped Navy champion Johnny Clark in 1 round. Defeated Veteran Irish Fagan who had fought a no-decision with Vince Dundee. Defeated Abie Bain in Elizabeth scoring a knockdown in the process. Knocked out South American sensation Alonza Martinez, then defeated Freddie Krebs, the New York star who had a K.O. win over future champ Paul Berlenbach as an amateur.
In 1926 he defeated Boston's Meyer Cohen, pitching a near shut-out for 10 rounds. Cohen (who in his next fight defeated Lew Tendler) managed to win only one round. He took on tough Harry Martone who had just knocked out the great Georgie Ward in 2 rounds, winning a newspaper decision (Elizabeth Times Herald). That fight drew the largest crowd to any indoor event in the history of Elizabeth, the record to last many years. He then defeated Ted Coolidge who had lost only 3 of 55 previous fights. The same year saw him winning the Elizabeth middleweight championship, beating Midge Morofsky.
1927 saw Andy winding up his career, fighting a draw with One Step Watson who had previously fought Jock Malone. Then a thrilling but losing effort against the number 3 rated welterweight in the world, Jack McVey, who had beaten such fighters as George Nichols and Dave Shade. Newspaper descriptions had Andy ahead until cuts forced the end of the bout. A few weeks later in Long Beach, New York, he lost on cuts to leading contender Willie Harmon, who had fought Pete Latzo for the championship. In approximately 60 professional bouts the count of 10 was never tolled over Andy and his losses could be counted on one hand.
Andy retired from the Elizabeth Police Dept. in 1958, after 30 years service. He was married to the late Mary Deutsch and has four children and four grandchildren. He now resides in Point Pleasant Beach, N.].
Boxing Record – Andy Garry