Inducted on November 11, 1988
In 1928 Al Santora of Willie Burns? Gym won the Open New York Daily News Golden Gloves' championship at flyweight vs. George Keen of the Hollywood Inn after 4 rounds. In 1929 he battled to a draw after the three scheduled rounds with Barney Ross for the Intercity Golden Gloves' featherweight championship at Madison Square Garden, in one of the most legendary fights in Golden Gloves history. Ross received the decision after the judges ordered a fourth tie-breaking round.
1930 representing New York he won an Intercity Golden Gloves' championship in the 2nd division vs. Earl Watson at lightweight.
1930 won the National AAU at lightweight vs. George Parker of Buffalo by decision.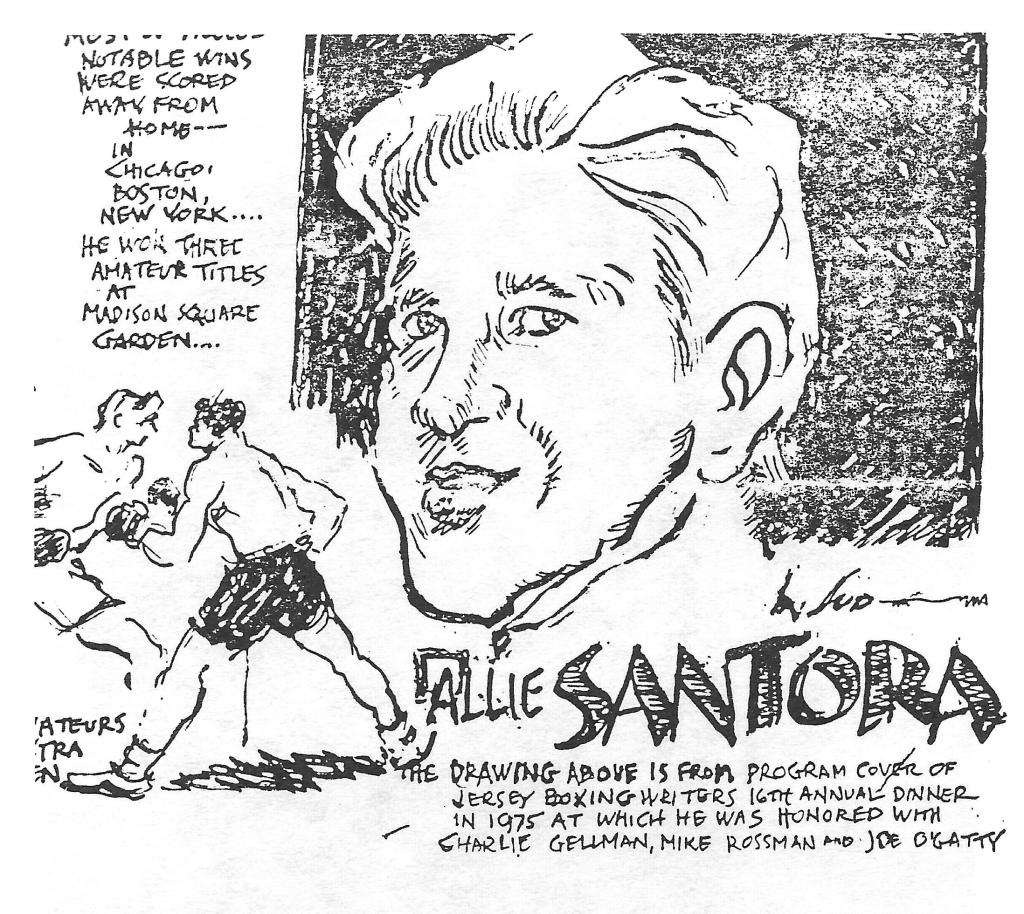 Born September 1,1911 Jersey City, N. J.
1928 – Won the New York 112 lb. open class Golden Gloves Tournament Championship Finals at Madison Square Garden.
1928 – Advanced to the Semi-Finals in the Olympic 112 lb. open trials at Boston, Massachusettes.
1929 – Won the 118 lb. open Metropolitan A.A.U. Championship Tournament at Madison Square Garden
1929 – Won the New York 126 lb. open Golden Gloves Tournament Championship at Madison Square Garden.
1929 – Boxed the "Great" Barney Ross of Chicago for the National Golden Gloves Championship to a three round draw. In an extra round (customary at that time), Ross was awarded the decision at Madison Square Garden.
1930 – At Chicago, won the 135 lb. open National Golden Gloves Title. 1930 – At Boston, Mass., won the National A.A.U. 135 lb. Championship Tournament.
1930 – Closed out an amateur boxing career of 67 victories and 5 losses in 72 bouts.
1930 to 1935 – Engaged in over 75 professional and exhibition bouts. Was licensed in New Jersey, New York and Massachusettes.
1933 to 1949 – Appointed Boxing Director and Coach for the Jersey City Department of Recreation.
1963 – Re-appointed Jersey City Recreation Department Boxing Director and Coach.
1988 – Al Santora is being inducted into the New Jersey Boxing Hall of Fame posthumously.
Boxing Record: click