Inducted on November 1, 2006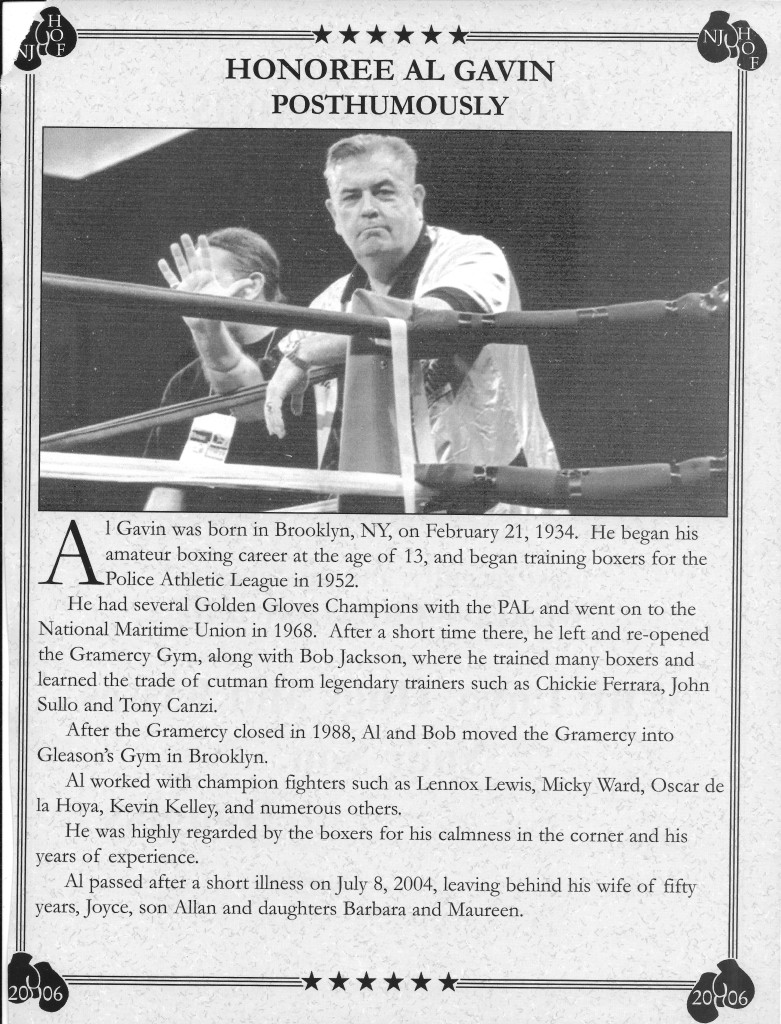 Al Gavin, 70; Stanched Blood Of Fighters for Four Decades
Al Gavin, one of boxing's best-known cut men, who spent four decades specializing in the art of stemming the blood flow that could keep a fighter from answering the bell, died Thursday at Winthrop Hospital in Mineola, N.Y. Gavin, who lived in Bethpage, N.Y., was 70.
The cause was complications from a stroke, said Bob Jackson, a boxing trainer who was Gavin's partner working out of Gleason's Gym in Brooklyn.
Gavin worked in the corner of Lennox Lewis, the former heavyweight champion. Among his other fighters were Oscar De La Hoya, Micky Ward, Junior Jones, Kevin Kelley and Eric Harding. While working with top professionals, he also stemmed cuts for four-round preliminary-bout fighters and worked with young fighters in the Police Athletic League.
He was a retired landscaper for the New York City Parks Department, his day job while he worked the corners at night.
Gavin is survived by his wife, Joyce; his son, Al Jr.; and two daughters, Barbara and Maureen Gavin, all of Bethpage.
Gavin, who grew up in Brooklyn, fought briefly as an amateur but found that he had no future as a boxer. His love of boxing developed, however, and in his spare time he went to Stillman's Gym in Manhattan, a former centerpiece for boxing. He wanted to be a trainer and observed figures like Ray Arcel, Whitey Bimstein, Chickie Ferrara and Freddie Brown, but he decided to concentrate in the specialized aspect of being a corner man.
"I saw a group of guys off to the side, and they were the cut men," he told The New York Times last year. "They were the elite of the people in the gym, because they could do something that no one else could do."
And so he devoted himself to the skills of the cut man: the use of adrenaline, Vaseline and avitene and the skillful application of pressure, being paid by the fight rather than working under a contract. Jackson said he knew of no fighter who lost a bout on a cut with Gavin in his corner.
Asked how he described his craft, Gavin said: "It's just something you get a feel for. It's like you see a dancer and you say, 'How did you do that?' And he says: 'I really don't know. I just have a feel to do it."'
Photo: Al Gavin worked in the corner of Lennox Lewis and Oscar De La Hoya. (Photo by Chester Higgins Jr./The New York Times)