Inducted on October 26, 1980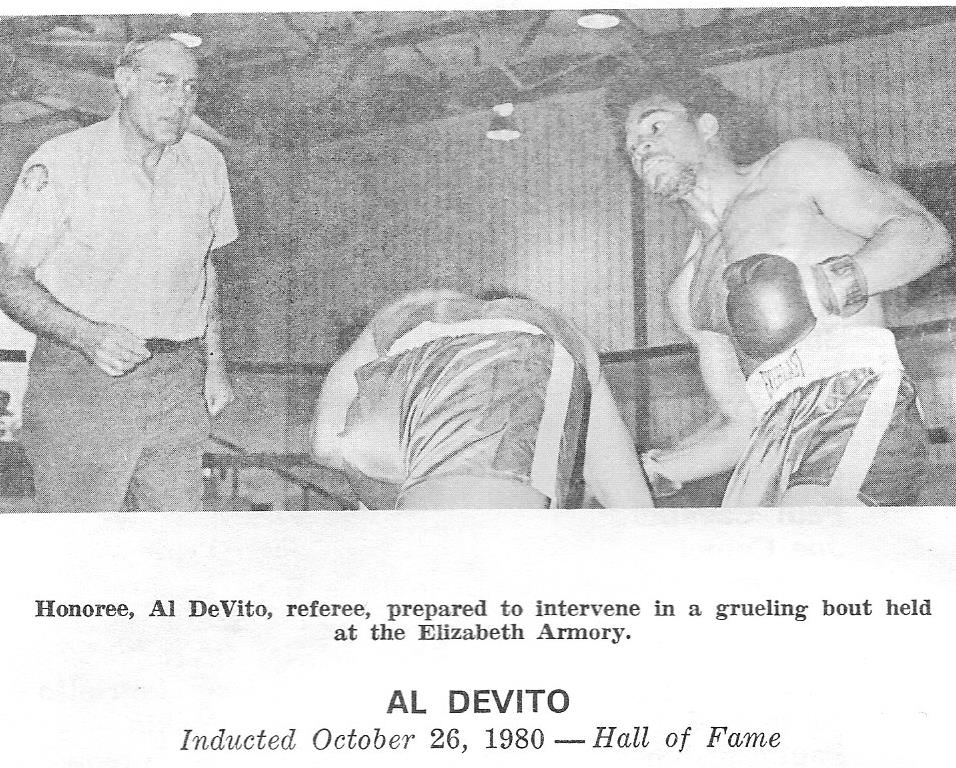 Al DeVito was born August 2, 1918 . . . one of four sons.
He was "born in the boxing profession," according to his wide circle of friends. His destiny, "the squared ring encircled by ropes, canvas, lights and blood stains."
Yes, how true a prediction. During his high school days at Central, Newark. At age 16, Al began his quest for Ring fame. He won the middleweight championship of Central High, while under the watchful eyes of Andy Watts, well-known sports figure of his era. To this day, Al has frequently repeated and attributed his knowledge of Boxing gained through the efforts of his late mentor and friend, Andy Watts …
During his managing days of Amateurs, Andy directed Al to the Passaic County Diamond Gloves Championship in the Welterweight Division. DeVito was awarded the outstanding fights award in the Tournament. 'While sparring with Dr. Max Novich at Central, (Olympics) I knew my qualifications," said AI: His amateur record still is the envy of most young boxers; 26 bouts – winning ALL, and 19 by knockouts.
Professionalism too, became the envy of those watching AI's progress in his fistic climb. Winning bout following bout Watts encountered hardships in securing opponents for AI. He had won 21 of 22 recorded bouts. Opposing management refused to allow their protégé in the same contest with AI. Discouraged but determined to continue boxing, DeVito entered the Management-Trainer field.
A few of whom he helped climb to the top of their division were Morris Parker, the former National Featherweight Champion; Mario J. Centi, Featherweight and Lightweight Champion; Freddie Archer, Welterweight Champion, and Phil Sharkey.
One of the first to be inducted in the Armed Forces, on Feb. 4, 1941, he prides himself with his contribution. Here, too, he took complete control. His expertise guided his team to Championship Honors. Al served honorably until his Army discharge in October. 1945.
In 1946, at the request of the New Jersey State Athletic Union President, Al accepted the responsibility of one of the most gruelsome tasks in boxing, that of Referee. His expertise here to was welcomed by the competitors as well as the fans. One of his most memorable decisions was given Joe Frazer, the former heavyweight champion of the world, over Marty O'Neil. To this date Al admits it was the most notable of his recollection. "It was tough every second of the three-minute round. The boys were in superb condition, throwing blows and countering, blocking and weaving. Determining a winner on this scoring alone was an impossibility, recalls AI. Every movement required consideration of aggressiveness, unorthodox or orthodox, stamina and finesse. It was without question the toughest bout I ever officiated."
Boxing Record – Al DeVito
Judging Record: click